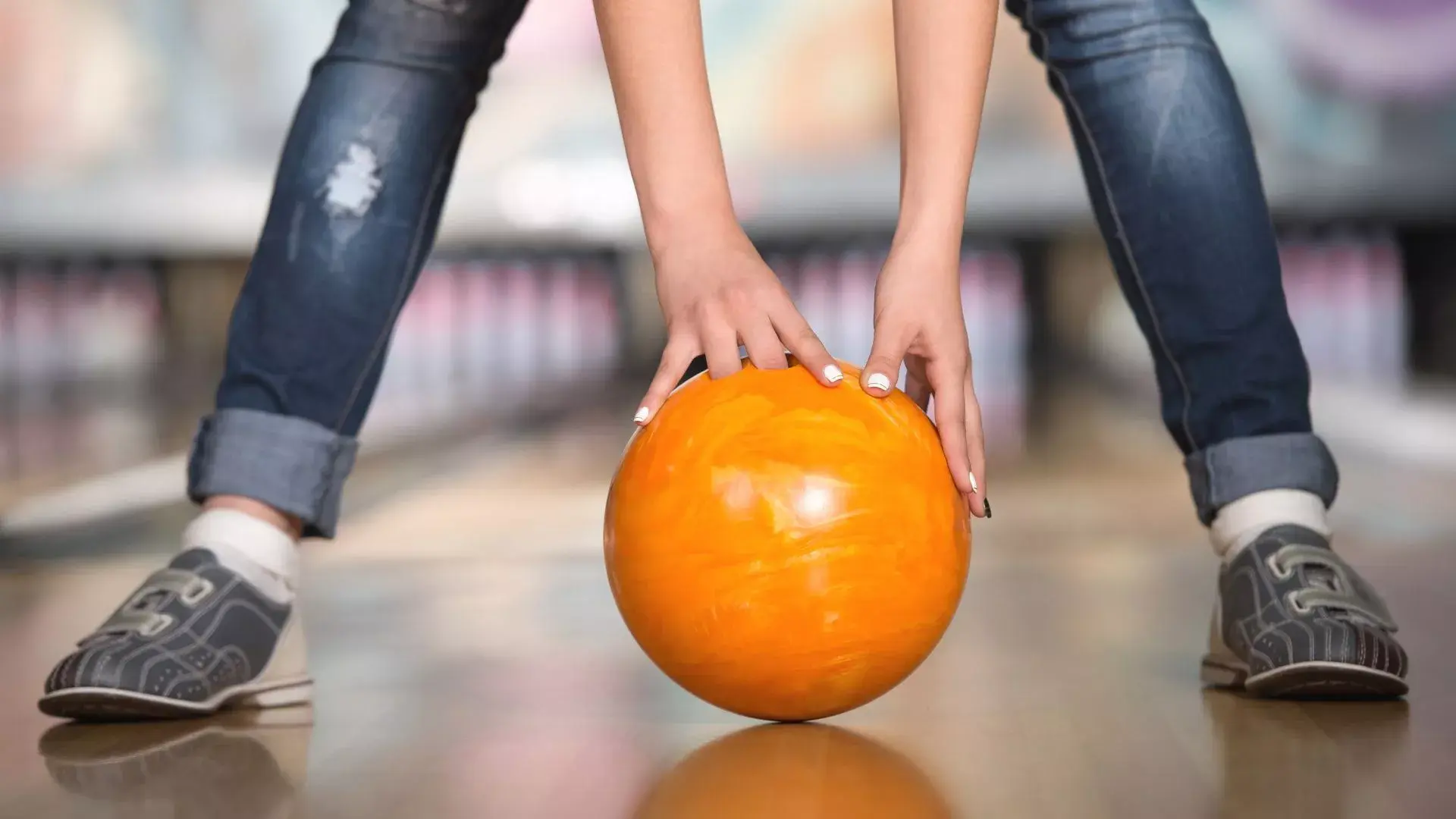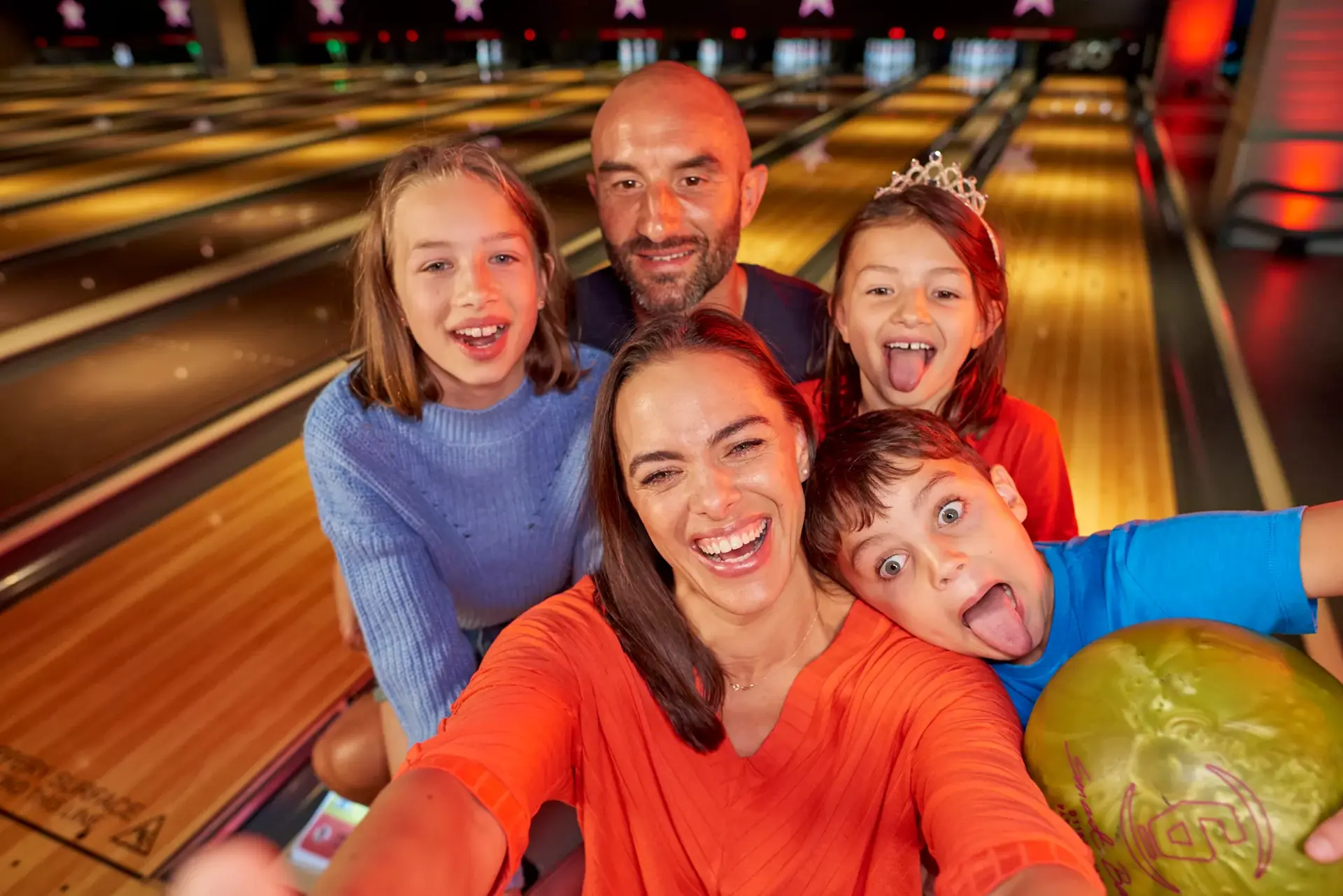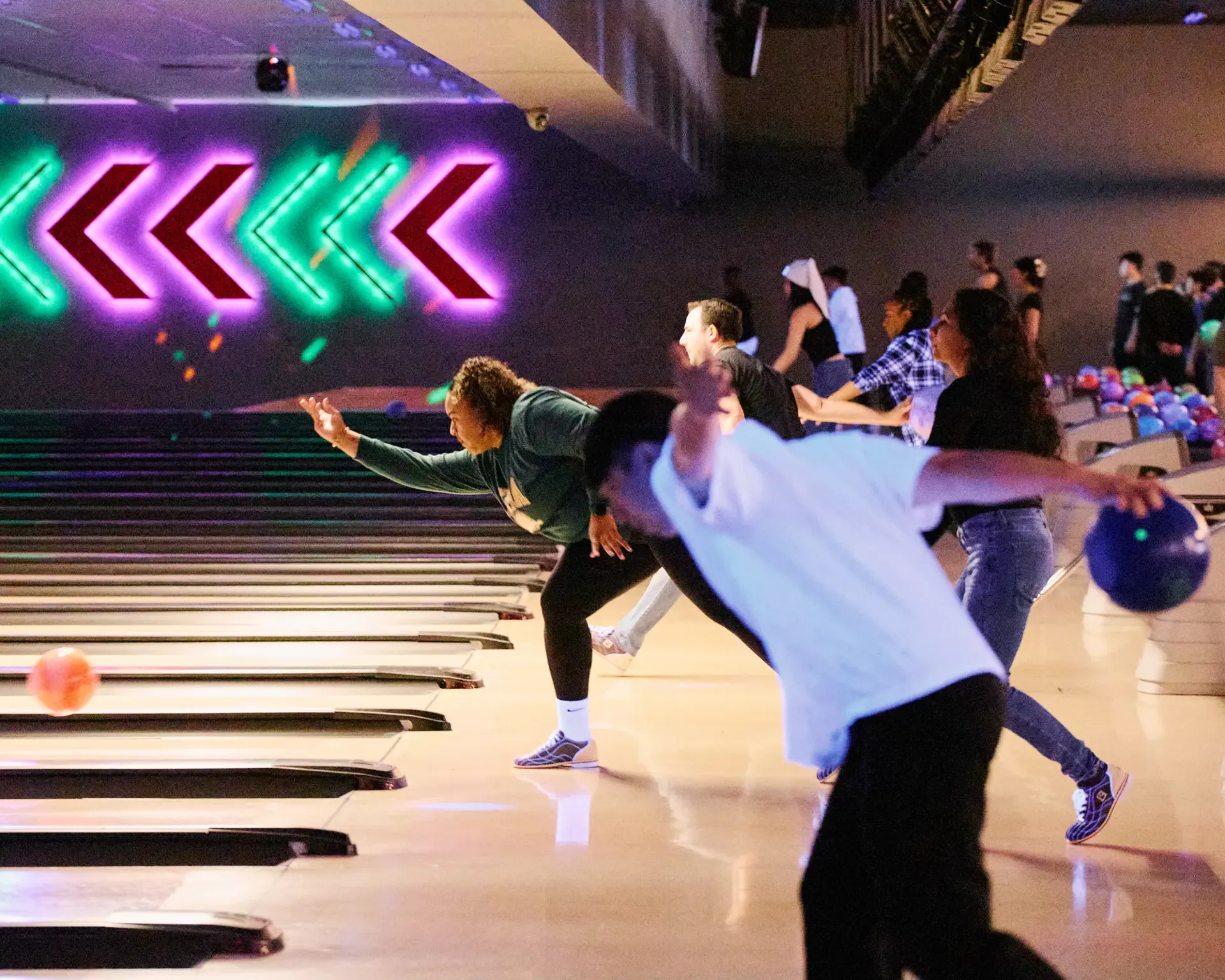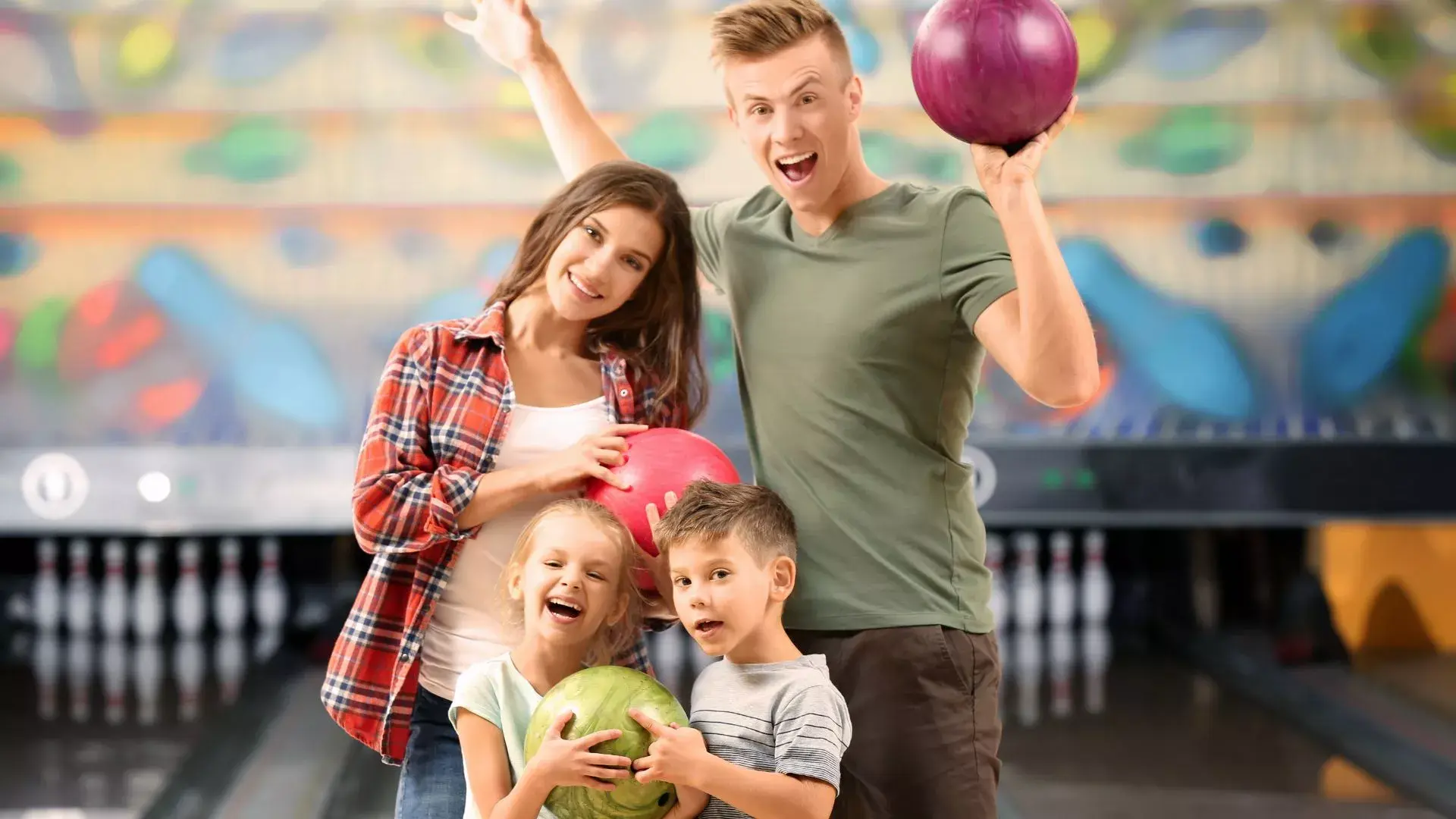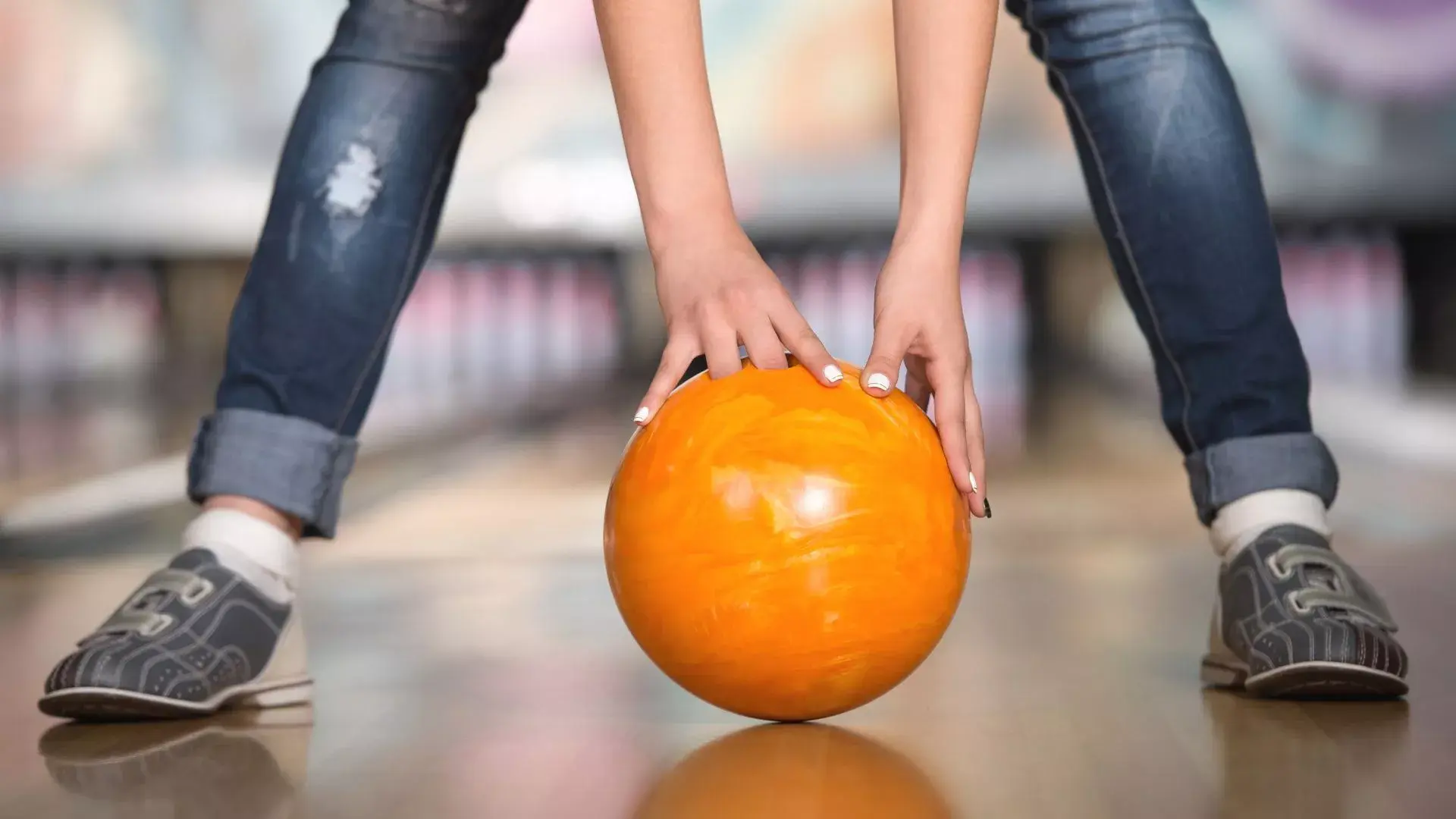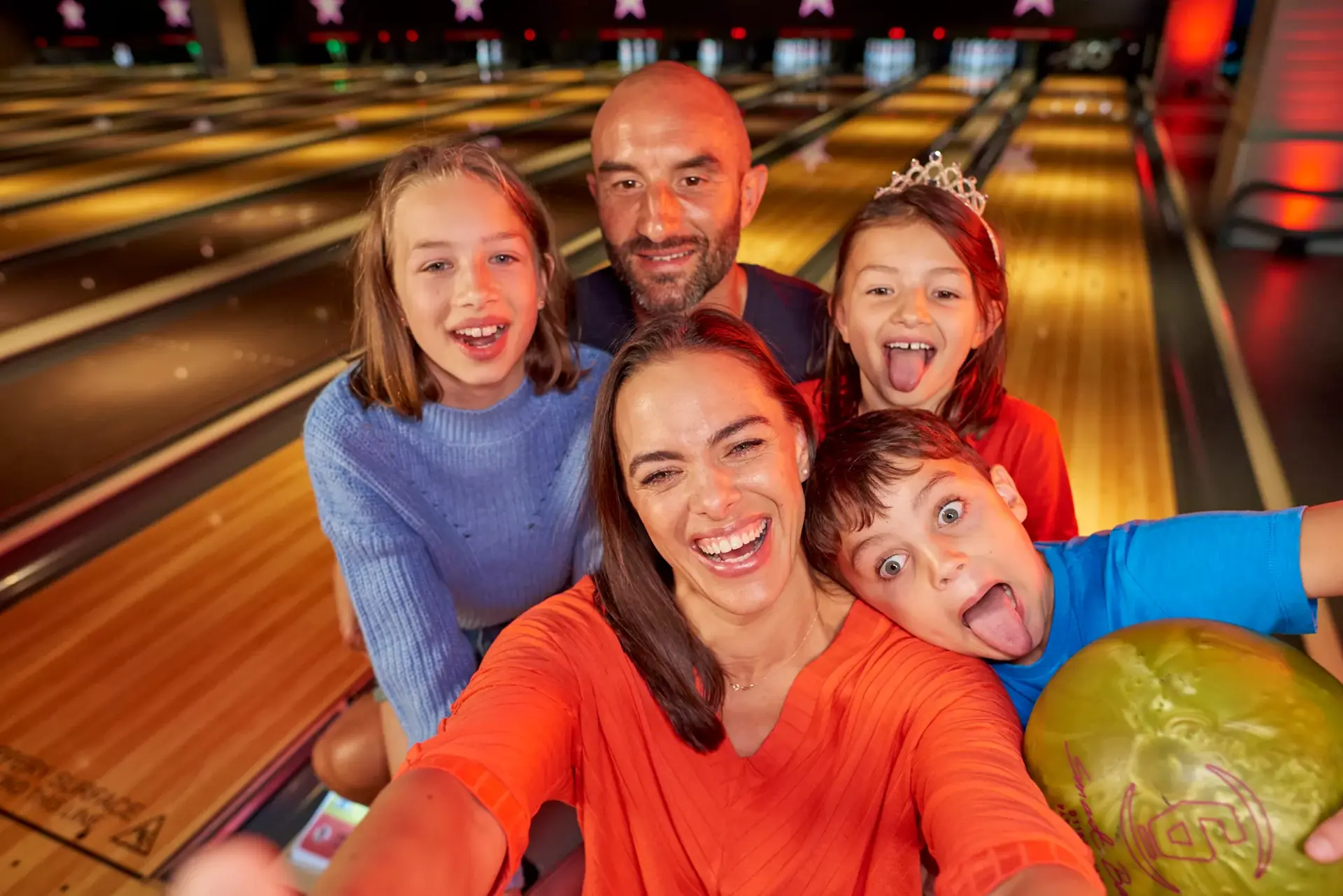 Bowling at Splitsville
Strike up fun on the lanes
At Splitsville, we're not your average bowling alley – we're an all-encompassing entertainment experience. We take your bowling adventure to the next level by offering lane-side service, delicious food and drink options, and an atmosphere that exudes fun and friendliness, leaving you and your crew craving more.
Bowling is a leisure activity that packs a punch of fun and inclusivity like no other. Whether you're a seasoned pro or a first-time bowler, the thrill of rolling that ball down the lane and knocking down pins are universally enjoyable.
It's a fantastic way to bond with friends and family, create lasting memories, and even build camaraderie in corporate settings. Plus, with its accessibility and adaptability, anyone can participate from age 3 to 93, making it an ideal choice for social gatherings and team events.
Our bowling centres are equipped with the latest technology in digital scoring and immersive game options.
Join us for an unforgettable time of strikes, spares, and laughter. 
*Bowling amenities may vary by location.
A Game within a Game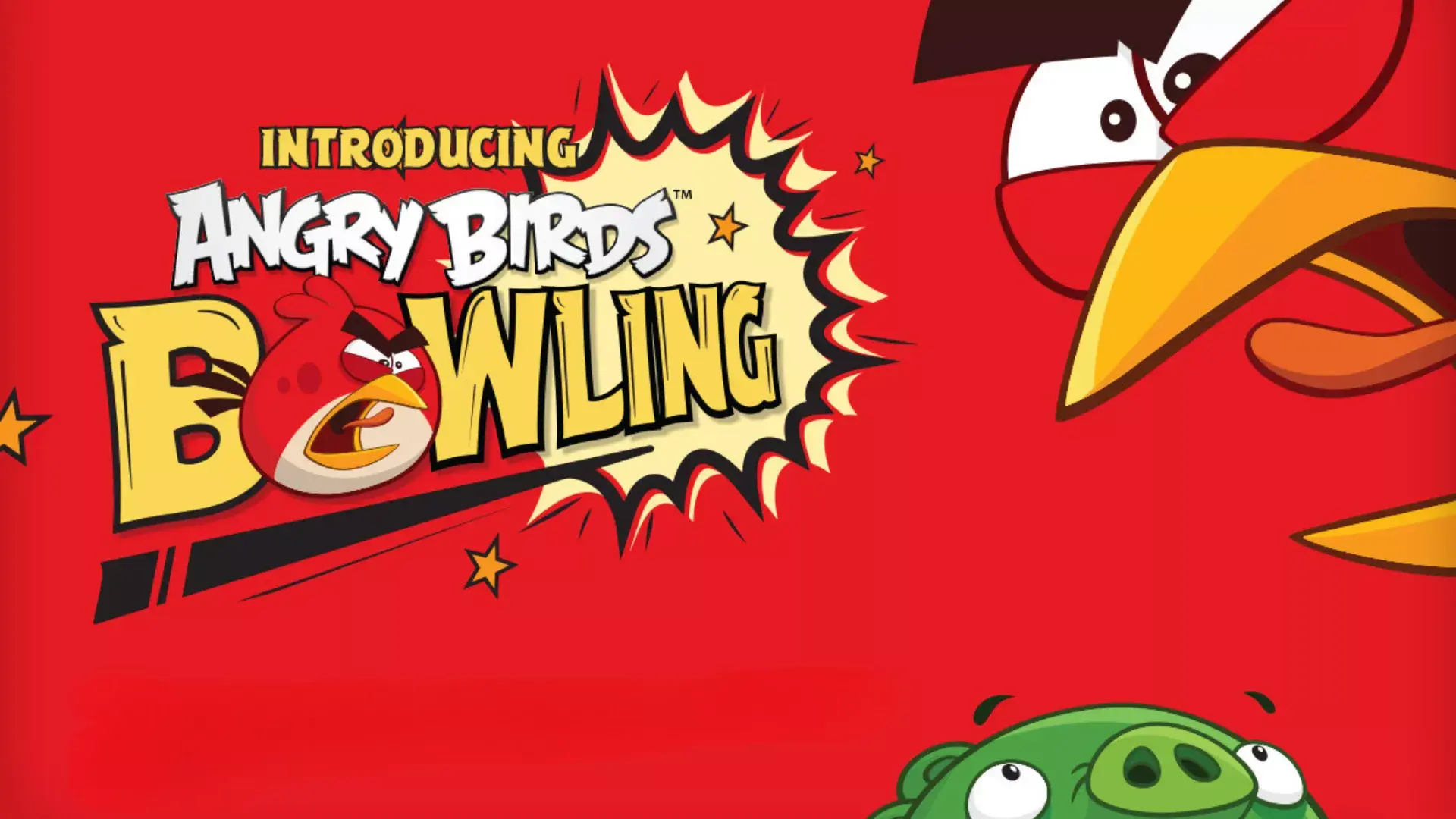 Angry Birds Bowling
Bring your 'A' game! The classic app, Angry Birds, comes to life at the lanes. This fast-paced, bird-flinging game will have your group enjoying endless laughter as you try to defeat the egg-stealing pigs!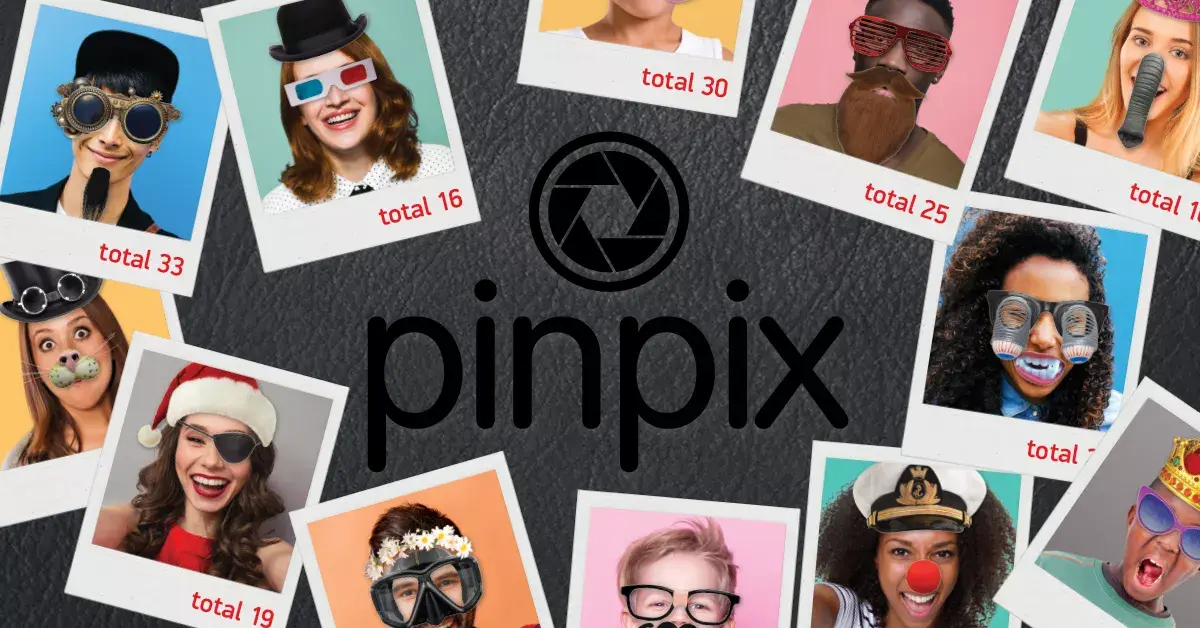 PinPix Bowling Game
Fun for all ages! Take photos, add filters and use editing tools built right into our bowling tablets. Collect new accessories during the game and even photobomb your friends along the way.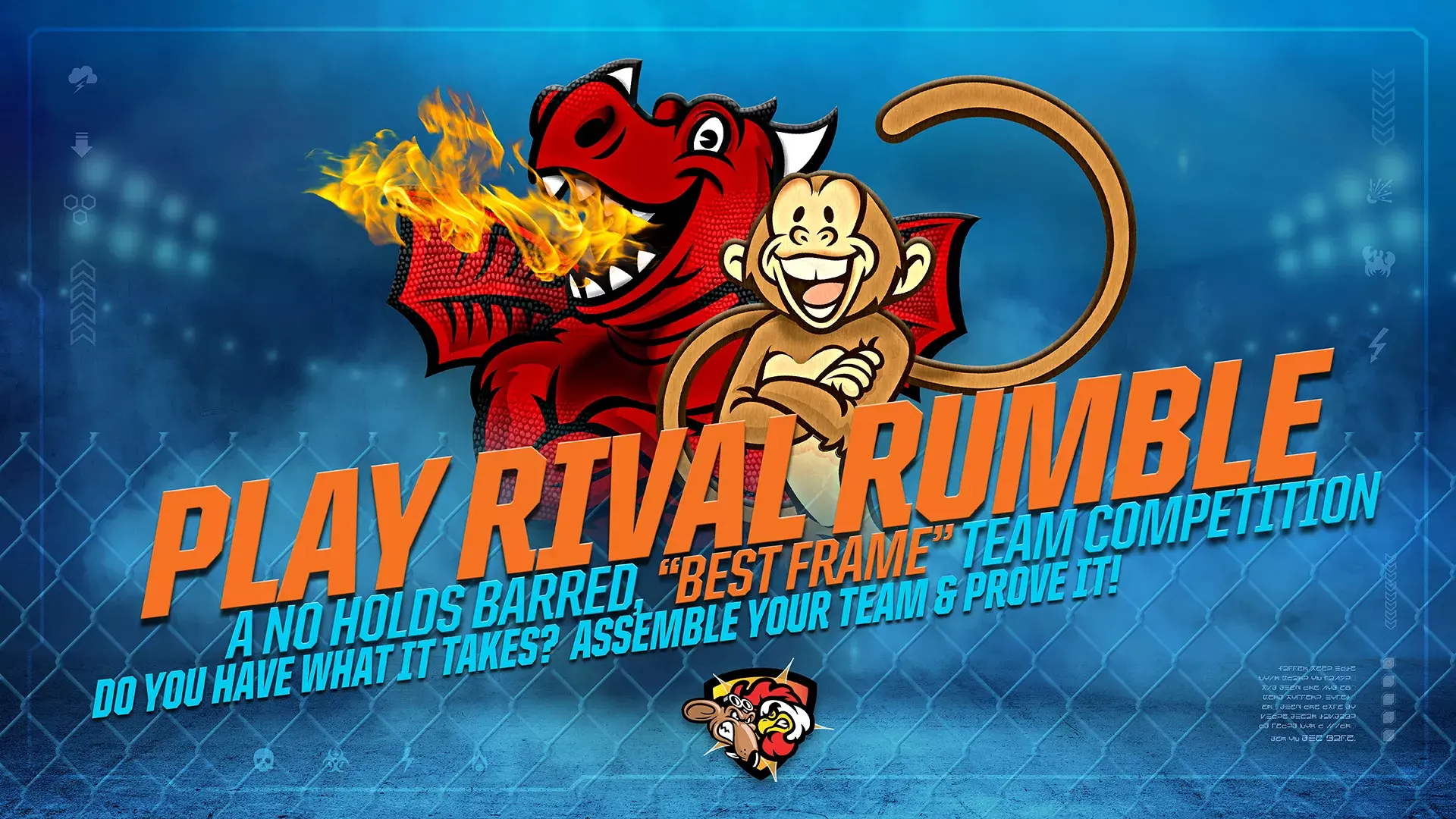 Get Ready to Rumble
Rival Rumble is the perfect team-building game as you compete in a "best frame" competition! It's the bowling version of golf's best-ball tournaments.
Glow 'N' Roll
Join us for the ultimate glow-in-the-dark bowling extravaganza every weekend at any of our fabulous locations.
The fun kicks off on Fridays at 3 PM, and we keep the glow-bowl party rolling from 1 PM to close on Saturdays and Sundays. Get ready to experience bowling in a whole new light, quite literally!
Glow bowling is also available Monday to Thursday nights after our bowling leagues. View league schedules for more details.
Bowling Tips
We want you to have as much fun as possible on the bowling lanes. Your safety is extremely important to us, so please supervise children at all times. Running in the centre with bowling shoes and bowling balls could cause injury.

Here are a few tips (for children and adults) to help you play safely.

Don't place your hand near or inside the ball return at any time. Wait until the ball has returned fully onto the rack. If a ball doesn't return fully, please ask a member of our team to assist you.
Please don't touch the balls that are on the rack while you're waiting to bowl as your fingers could get hit by balls when they return to the rack.
Don't step over the black line at the start of the bowling lane. This is called the foul line. Beyond this line, the bowling lanes are coated with a special oil varnish to protect them and the surface is really slippery.
Pick up the balls carefully and hold with both hands.
Children should use the lightweight balls marked with a 6 or 8. If a heavy ball falls on your toes, it's going to hurt! 
Never go onto the lanes or walk between the lanes. If a bowl or bowling pin gets stuck, please ask a member of our team to assist you.
Please keep food and drinks to the seating area. If you have a spill or notice a slippery area, please let our team know and they will be happy to clean it up quickly. 

Bowling Shoes

Bowling shoes are required at Splitsville centres and are available for a small rental fee. We offer a wide range of sizes from children's Velcro fastening shoes to large big-footed adult bowling shoes (approx. size 12/13). Our shoes are specially designed to protect our floors, while also allowing you to slide smoothly on the lanes when bowling. Shoes are cleaned after each use and socks must be worn. Socks are available for purchase at the centre if you arrive in sandals.

Bowling Ball

Did you know that the number on a bowling ball refers to its weight? Splitsville has a ball for every bowler from 6lbs to 14lbs with grip sizes XXS right through to XXL (grip size refers to the size of the holes in the ball for your fingers). Your perfect ball should be comfortable to hold and not too tight on the grip, allowing your two middle fingers to be inserted down to the second joint. Please take care when picking up and putting down the balls to avoid hurting your lovely little fingers, or your back.

Scoring System

Our state-of-the-art scoring systems are fully digital and easy to use from the touch screen tablets at the lanes. New features include interactive games such as Angry Birds Bowling, Pin Pals, and Pin Pix. Our team members will be happy to show you how to active the different game modes.

This is the name given to the runway area before the start of the lane, and also describes the action you go through just before releasing the ball.

Before you start bowling you need to find your starting position. Most bowlers use a four-step approach, which means starting just over four steps away from the foul line.

Begin by stepping onto the same leg as the arm you bowl with. So, step right first if you're right-handed and vice versa if you are left-handed.

On your first step, the ball should be pushed out in front of you at an arm's length (known as the push-away). This will help to gain momentum, which is needed, as opposed to strength.

The ball will go into a natural swing as you continue your approach. On your second step, put your opposite arm out to the side to help you balance. Your second and third steps should increase (very slightly) in length and speed.

Your final step should finish in a slide, bringing you to a controlled stop. You should arrive at (or just before) the foul line at the same time as letting go of the ball (the release).

Think of your approach as a smooth, controlled walk, swing and roll. Accuracy will always win over brute strength, but you'll need to know how to aim properly first!

Practice your steps before taking your turn to check your distance and make sure you are happy with your technique. 

The better your aim, the more pins you'll knock down!

To start, the ball should be in line with your shoulder (rear sight) before approaching in a straight line. Then, when you release the ball, you need to aim for the third arrow on the lane from the right-hand side. Let the momentum extend your arm after the release (follow through) and finish with your thumb pointing at the pocket (the gap between the 1st and 3rd pin). 

If you line up correctly, aim straight, and your ball rolls over the third arrow on the lane, then you should get yourself a very good score.

If you want to improve your aim further, then check out our advanced section. 

To get a strike, you need to get the ball in the pocket between the headpin and 3rd pin to the right.

If your aim (see previous section) is accurate and you're still missing, try adjusting your position slightly. If you're missing to the right, move your feet more right. If you're missing to the left, move your feet left.

You don't have to move too much to see a difference, even moving over one to three boards will do the trick. While you're adjusting, you'll need to make sure your front sight (third arrow) remains the same – it's your pivot point. Remember, you can't make these adjustments unless you're sure your aim was accurate in the first place.

There's another basic principle for picking up spares. Normally, you'd want to hit the pocket with your first ball to get a strike, but that doesn't always work out. If you have pins remaining, you need to apply basic principle No.2. If the pin/s are to the left of the pocket, move your feet right, keeping the same pivot point (third arrow). If the pin/s are to the right of the pocket, move your feet left. Depending on which pin is remaining will determine how much you should move:

Pin number 2? Move 3 boards right
Pin number 4? Move 6 boards right
Pin number 7? Move 9 boards right

(This is known as the 3-6-9 system)

It's more or less the same principle for the other side of the lane too, but because you'd normally hit part of the 3 pins if you were aiming for a strike, you don't need to move your feet quite as much.

Pin number 3? Move about 1 board to the left
Pin number 6? Move a further 3 boards to the left
Pin number 10? Move a further 6 boards to the left (this will be approximately 7-8 boards left of your original strike position)

It's important to remember these two basics principles. They're the foundations on which you build your game. There are other systems and more advanced techniques, so when you're ready to take your game to the next level, consider this:

Get further tips from a qualified instructor (ask at your local centre)
Join a league for a bit of healthy competition. There are leagues to suit all levels of play from novice to advanced
Buy your own bowling ball for a better fit and improved results 
Join the Club
Didn't think bowling could get any better? That's probably because you weren't signed up to find out about exclusive offers and events. Don't miss out— Join our email club today!