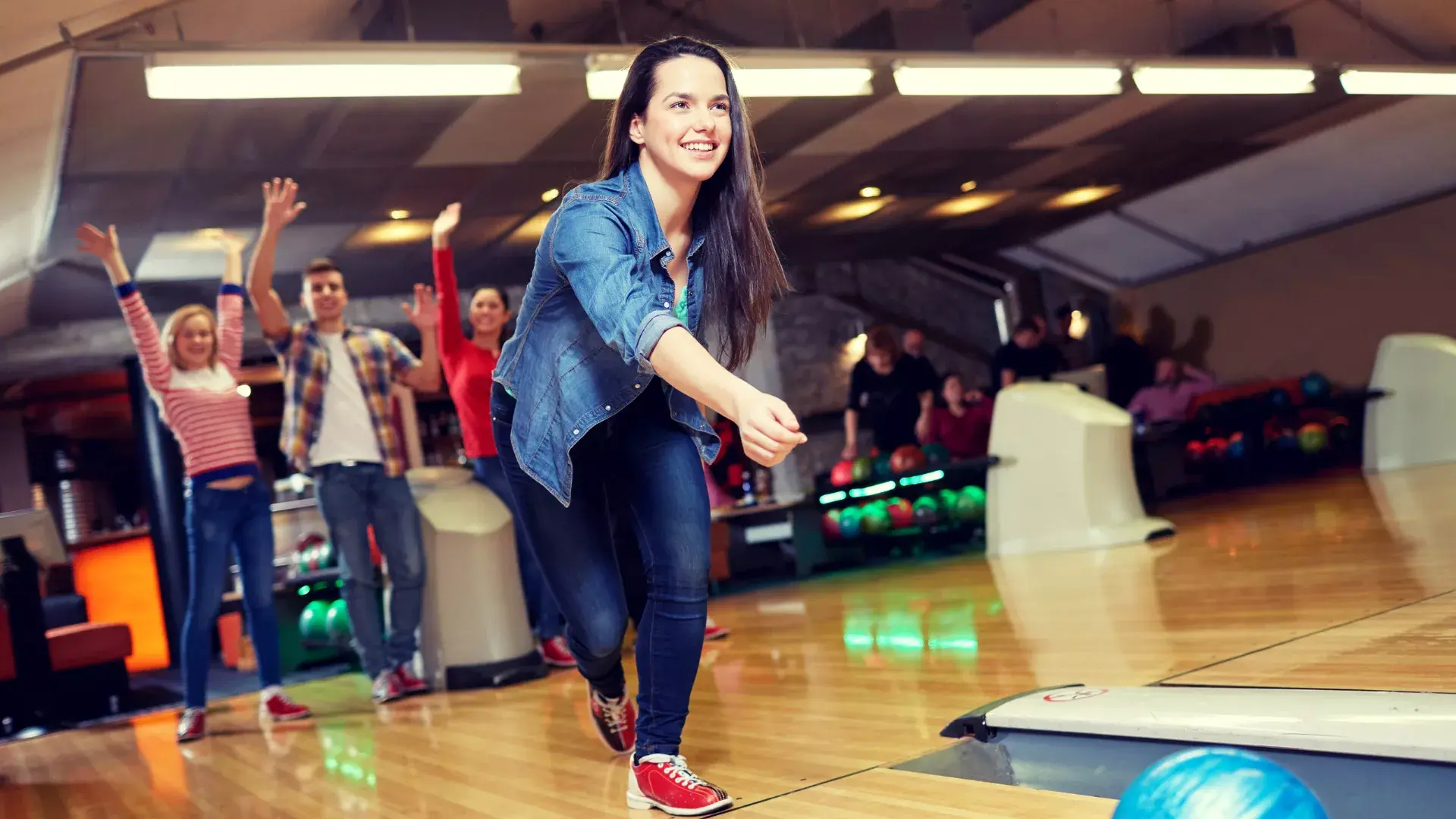 League Bowling
League Bowling at Splitsville
All of our Splitsville locations host a variety of leagues throughout the week. During these weekly scheduled times, our centres have the lights on and the music down low.
We still have open lanes and welcome anyone to come in to play!
Check out your centre's league schedule to plan your experience in advance (league schedule and lane availability subject to change without notice). 
BURLINGTON
6:30 PM – 8:30 PM    (16/24 lanes)

6:30 PM – 8:30 PM    (24/24 lanes)

Open – 12:30 PM        (16/24 lanes)

7 PM – 9 PM                (10/24 lanes)

7:30 PM – 9:30 PM    (14/24 lanes)

10 AM – 12 PM            (16/24 lanes)
CALGARY GLAMORGAN
Open – 12:30 PM        (8/10 lanes | 5 Pin) ​​​​​​​

12 PM – 2:30 PM        (10/10 lanes | 5 Pin)

6:30 PM – 9 PM         (10/10 lanes  |10 Pin)

6:30 – 9 PM          (20/20 | 5 & 10 Pin)

6:30 PM – 9 PM        (10/10 lanes | 10 Pin)
CALGARY HIGHFIELD
6:30 PM – 9 PM        (12/30 lanes)

6:30 PM – 9 PM        (12/30 lanes)

6:30 PM – 9 PM        (12/30 lanes)

Open – 12:30 PM      (8/30 lanes)
CALGARY MERIDIAN
Open – 9PM           (18/30 lanes)

6:30 PM – 9 PM    (24/30 lanes)

6:30 PM – 9 PM    (22/30 lanes)

Open – 12:30 PM    (10/30 lanes)

6:30 PM – 9 PM       (22/30 lanes)

6:30 PM – 9 PM    (28/30 lanes)

Open – 12:30 PM   (30/30 lanes)

Open – 12:30 PM   (18/30 lanes)

11 AM – 1:30 PM    (12/30 lanes)
HAMILTON
Open – 12:30 PM      (19/34 lanes)

6:15 PM – 9 PM         (31/34 lanes)

12:45 PM – 3:15 PM  (15/34 lanes)

6:10 PM – 11 PM       (29/34 lanes)

12:15 PM – 3:30 PM (22/34 lanes)

6:15 PM – 9 PM         (33/34 lanes)

Open – 11:45 AM      (10/34 lanes)

12:30 PM – 3 PM      (11/34 lanes)
KINGSTON
4:30 PM – 7:00 PM      (8/24 lanes)

Open – 12 PM                (20/24 lanes)

1 PM – 8:30 PM            (12/24 lanes)

12:15 PM – 3:30 PM    (22/34 lanes)

6:15 PM – 9 PM           (33/34 lanes)

1 PM – 3:30 PM           (12/24 lanes)

6 PM – 8:30 PM          (12/24 lanes)

Open – 11:30 AM         (20/24 lanes)
NANAIMO
6:30 PM – 9 PM           (4/16 lanes)

12:20 PM – 2:50 PM    (10/16 lanes)

7:30 PM – 10 PM          (16/16 lanes)
RICHMOND HILL
 8 PM – 10:30 PM    (13/40 lanes)

7 PM – 9:30 PM      (20/40 lanes)

Open – 12 PM           (8/40 lanes)

8 PM – 10:30 PM     (12/40 lanes)

1 PM – 3:30 PM       (4/40 lanes)
RICHMOND RIVERPORT
Open - 11:30 AM         (6/6 lanes | 5 Pin) 

Open - 12:30 PM         (6/34 lanes | 10 Pin) 

11:45 AM - 2:30 PM    (6/6 lanes | 5 Pin) 

7:00 PM - 9:45 PM      (20/34 lanes | 10 Pin) 

9:45 AM - 12:45 PM      (12/34 lanes  |10 Pin)

7:00 PM - 10:30 PM      (24/34 lanes  |10 Pin)

 

Open - 12:30 PM            (12/34 | 10 Pin)

11:15 AM - 3:00 PM       (6/6 | 5 Pin)

7:30 PM - 9:30 PM         (4/34 | 10 Pin)

4:15 - 5:30 PM         (6/6 lanes | 5 Pin)

7:45 - 10:45 PM       (18/34 lanes | 10 Pin)

10:30 AM - 1:00 PM         (10/34 lanes | 10 Pin)

Open - 11:45 AM      (6/6 lanes | 10 Pin)

Open - 1:30 PM        (16/34 lanes | 10 Pin)

Open - 12:30 PM          (6/6 lanes | 10 Pin)
WOODBRIDGE
6:30 PM – 9 PM      (26/28 lanes)

12 PM – 2:30 PM            (16/28 lanes)

6:30 PM – 9 PM              (26/28 lanes)

9:15 PM – 11:45 PM       (10/28 lanes)

6:30 PM – 9 PM      (22/28 lanes)

6:45 PM – 9 PM    (28/28 lanes)

Open – 12:15  PM       (14/28 lanes)